Best Natural Shampoo For Curly Hair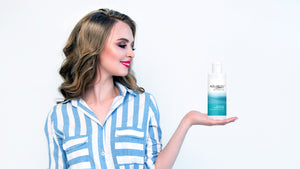 Anyone with curly hair knows that there is a surprising amount of maintenance that goes into styling your hair the way you want it. There are special tools, products and even a routine you follow, that straight-haired friends might not understand. When it comes to your curls, you deserve the best, and switching to a natural shampoo and natural conditioner will help your curls flourish.
General Tips for Curly Hair If your curls are feeling dry, your hair will lose its shape and become much fuller and frizzier. This is because the natural oils in your hair are being stripped away from over washing. The best way to protect your curls while washing with shampoo is to use a gentle back and forth motion on the scalp, and let the shampoo rinse through your curls, without touching or bunching them much. To add moisture and softness to your curls, you should use conditioner more often. Other ways to help retain moisture include drying your hair with a cotton t-shirt, instead of a towel, and swapping that pillowcase you currently use for a silk pillowcase.
Ultimately, with curls, you already know that less is more. Even though you're already brushing less, washing less and using heat tools less, to make a difference, you need to use the right products for your curls to truly shine.
Argan Oil Shampoo and Conditioner For any type 2 waves and type 3 curls, consider grabbing a bottle of argan oil shampoo and argan oil conditioner. Argan oil is an all-natural liquid gold, packed with a ton of antioxidants, including Vitamin E. Argan oil shampoo does a wondrous job at moisturising and defining your curls, helping to rejuvenate any dry, damaged hair. Argan oil conditioner will soften your hair, make detangling those curls that much easier and help keep the frizz at bay.
Vanilla Orange Shampoo and Conditioner Two natural ingredients you'll want to start using immediately on any type 2 or 3 curls, is vanilla and orange. Full of vitamins and minerals, vanilla orange shampoo will lift dirt and remove harmful oils from the scalp. This allows the hair follicle to breathe, which will redefine your curls in the best way. The vanilla orange conditioner is packed with B vitamins that will make sure your hair is never dry or brittle again.
Silk and Shine Shampoo and Conditioner Silk amino acids help prevent dehydration from happening to your curls, by penetrating right at the root. This will nourish and strengthen those type 4 coily curls without weighing them down. Silk and shine shampoo will breathe new life into your hair, increasing natural shine and softness, without the frizz. The rich formula of silk and shine conditioner will bind with keratin in hair strands to lock in moisture, without allowing any dirt or oil build up on your scalp.