How To Effortlessly Care For Colored Hair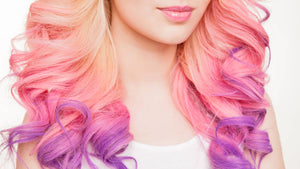 Coloring your hair is so much fun! Whether it's your very first time, or you've already gone through every color on the spectrum and you tend to change your hair color up often, a new hair color can boost your confidence and make you fall in love with your hair all over again. With the right tools, you can lighten, darken or add some funky color to your locks. Whatever you decide to do, just know that altering your natural color will harm the overall health of your hair. Here are a few tips and tricks to keep in mind to protect your hair and its new color.
Wait Hours Before Washing After Changing Your Color
After you have immediately colored your hair, wait a full 72 hours before your first shampoo and conditioner. The new color needs time to set in your hair, even if you've lightened. If you wash it too soon after visiting the salon, you risk washing all your color down the drain.
Wash With Cooler Temperatures
Hot water is bad for your hair, period -- but it's even worse for colored hair. Not only will it dry out your locks and create frizz, but hot water actually opens the hair cuticles and allows the color to rinse out. Your water doesn't have to be ice cold, but turning down the temperature really does make a difference.
Wash Less Often
Although this is an important tip to maintaining healthy hair, washing less often is even more important for freshly colored hair. The more often you wash, the quicker your color will fade. If you struggle to put a few days between washes, dry shampoo is safe for color treated hair and will not affect your color.
Use An All-Natural Shampoo and Conditioner
Unfortunately, when you change the natural color of your hair, your current bottles of shampoo and conditioner might damage your hair and ruin the new color. A change in hair color most definitely means a change in the hair products you use too. There are specific shampoos for blondes, brunettes, red-heads and even for more vibrant hair colors, but that can be expensive, especially if you change your color often. Wouldn't it be great if there was one type of shampoo and conditioner that would suit any hair color? Good news, there is!
Lavender shampoo is nourishing and restorative. The unique sulfate-free and paraben-free formula gently cleanses without over-drying, so it's great for all hair types. Lavender oil has a calming effect and smells great, but most importantly lavender shampoo will not ruin your color. Rich in minerals that nourish your hair, including Vitamins C and E, copper, zinc and B Vitamins, this shampoo feeds your colored hair to make it healthy.   Lavender conditioner restores lustre, shine and locks moisture into your hair. Lavender conditioner blends the physical and aromatherapeutic benefits of lavender with the intense, deep moisturizing properties to help hair that is weak, damaged or brittle – all things that can happen to your locks after coloring. This nourishing and restorative conditioner will leave you with a beautiful natural shine.