How to Gently Cleanse Your Hair and Scalp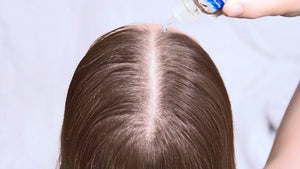 You might be surprised to learn what does an itchy scalp and an oily scalp have in common: They're both signs of a scalp imbalance. A scalp imbalance can happy to anyone at any time in their hair cycle, but it is more likely to happen to you if you don't look after your hair very well. External factors from the products you use and how much product you use, to internal factors, like changes in your hormone level, all play a part in scalp imbalance, and sometimes, a few causes can occur at the same time. You should be concerned about the health of your scalp when you feel tightness when you touch your scalp, see excessive dry flakes or red spots on your scalp, have very oily roots but flat, dull-looking hair, or start to experience hair loss. The good news is that you can easily rebalance your scalp. Start by switching to a natural shampoo and conditioner. You not only want the best shampoo for oily hair to help keep your locks clean, but one that will help invigorate your scalp to bring life back to your gorgeous locks, while soothing your scalp.
Benefits of Peppermint Shampoo and Conditioner
If you want a little balance in your hair and scalp, it's time to use a peppermint shampoo and conditioner. Peppermint, more formally known as mentha piperita, is the most powerful and versatile mint variety. It's commonly used in food and sweets, but it is also in a lot of cosmetics and hair care products because of its ability to deeply cleanse and invigorate your skin and scalp. Peppermint has many purposes for your hair and scalp, including the ability to cut through oil, grease, dirt and chemical build up on your scalp without stripping your scalp of its natural oils. It does this by targeting the sebaceous glands, leaving you with a clean, fresh scalp. Peppermint also has special anti-inflammatory properties, infused with minerals and nutrients, that help cool the scalp to eliminate itching and irritation. This will help calm your scalp and prevent itching, allowing it time to heal between washes.
The Importance of a Cleansing Shampoo and Conditioner
Cleansing shampoos, also referred to as clarifying shampoos, are different from your regular bottle of shampoo. While conventional products clean your hair, they aren't able to lift dirt, oil and product build up from your scalp, and could be part of the reason for your scalp imbalance. Peppermint is a great example of a natural shampoo and conditioner that will gently and effectively cleanse your scalp. Luckily, this all-natural ingredient can be used on all hair types, including colour treated hair. Peppermint shampoo and conditioner can be worked into your hair care routine, and it is recommended use use this clarifying product once a week. You can use it more frequently if you are experiencing scalp discomfort. Peppermint is the best shampoo for oily hair and scalp imbalance, because it will nourish and hydrate without weighing your hair down.