Natural Solution to Common Hair Problems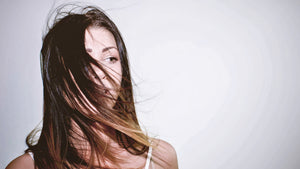 Your hair needs a surprising amount of maintenance in order to truly thrive, but your daily hair care routine could be causing more damage than you think. If you use blow-dryers, straighteners, elastic hair bands, too much dry shampoo and occasionally brush wet hair, your hair could be in trouble. Hair damage occurs through friction, heat and harsh chemical treatments, like colouring.  
Whatever your hair is currently suffering from, it's important not to rush and buy just any bottle of shampoo. The right shampoo can make a world of difference to your hair, and the wrong shampoo can take a simple hair care problem and make it severely worse. What are the most common hair care problems and their solutions?  
Dry Hair
The reason your hair is dry is because its lacking moisture. Losing moisture can happen naturally, but is increased with the frequent use heat styling tools and improper management of your hair. Once your ends have fried, it is very difficult for them to absorb and retain hydration, and there is a simple solution: it's probably time for a trim. Of course, if you want to help repair your hair without giving your length, you might want to invest in a new shampoo.  
Awapuhi Biotin Shampoo allows hair to grow thicker and healthier as it revitalizes both follicles and roots. Biotin is a vitamin B compound, that helps to build proteins needed to maintain youthful hair. Awapuhi rebuilds your hairs shaft without chemicals and harsh ingredients to lock in hydration. Together, these two ingredients are considered food for your hair, as they can assist in adding nourishment and shine to your locks. Awapuhi Biotin Shampoo is specially formulated to tackle issues such as dryness, damage, breakage and even hair loss. To tackle your current dry hair issue, and prevent dryness for reoccurring in the future, Awapuhi Biotin Shampoo is your best bet.   
Brittle Hair
Is your hair lacking lustre? Brittle hair can be extremely frustrating, especially if you don't know why it's happening to you. Brittle hair is different in everyone, and presents itself in a variety of ways, from mild dullness to increased frizz, and even full-blown hair loss and breakage. Poor nutrition, too much exposure to heat and chemical treatments are all causes of brittle hair. Again, getting a trim might remove the immediately affected brittle ends, it won't stop this from occurring again or even protect it in future. You'll need a new shampoo that can strengthen your hair, specifically a silicone free shampoo.   Vanilla Orange Shampoo is both moisturizing and hydrating, which is perfect for someone suffering from brittle hair. This shampoo is gentle enough to use on all hair types because it is a silicone free shampoo, and you'll begin to see and feel it powerful moisturising effects after a few washes. Vanilla Orange Shampoo is soothing and has special antiseptic and anti-inflammatory products, which help nourish and protect the scalp. It is also infused with jojoba essential oils, which can help restore manageability to your locks. If you want to fight and prevent brittle hair, this is the shampoo for you.