The Best Natural Purifying Shampoo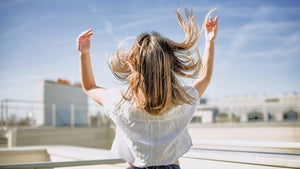 How many different shampoos are you currently using? And no, different scents don't count. If there is only a single bottle of shampoo in your shower, your hair is in big trouble and that care routine of yours is in desperate need of a revamp. For your hair to truly thrive, you should be alternating between at least two shampoos: a regular shampoo and a purifying shampoo. Purifying your hair is also known as detoxing, and it's super important for your scalp. What you might not know is that it's different from simply washing your hair with regular shampoo, and if you haven't done it before, you're in for a shocking surprise.
What is a Purifying Shampoo, And Do You Really Need It?
When it comes to purifying your hair and scalp, know that these kinds of products are specially made, and are not to be confused with your regular shampoo. While regular shampoo washes your hair, a purifying one will deep clean your scalp, lifting oil, dirt, minerals, oils and product build up. Does your hair really need that? Absolutely. Even if you have a healthy scalp and happy hair, build up happens so subtly and quickly, you can do with that extra deep clean a purifying product will offer and should incorporate it into your washing routine. So ultimately, yes, everyone needs to purify their scalp, but there are a few factors that will determine how often you should do it.
How Often Should You Use A Purifying Shampoo?
For most people, it is recommended to use a purifying shampoo once every other week.  However, if you have oily hair, if you have coloured or highlighted hair, if you use heat styling tools often, if you go swimming in chlorinated pools, if you often use styling products and dry shampoos, or if you suffer from scalp conditions like dandruff, you might want to use this product more often. All of these things leave a harmful build-up in your hair, and although it might not be as noticeable in some hair types, everyone will feel the difference on the scalp and hair after your very first wash with a purifying shampoo. Your hair will feel softer and smoother, and your scalp will be healthier than ever.
Sweet Orange Vanilla Shampoo
If you've never used a purifying shampoo before, start with a sweet orange vanilla shampoo. The natural zest from the orange is known to lift chemical and dirt build-up from your hair, without stripping your scalp of all its natural and essential oils. The Vitamin C found in oranges are deeply nourishing for your hair follicles and restores natural shine to your hair, protecting each strand from root to tip. Vanilla is full of B-Vitamins, which fight against frizz, keeping your hair soft, smooth and full, without weighing it down. Together, these purifying ingredients work together to deep clean your scalp. Gentle enough to use on all hair types, sweet orange vanilla shampoo will leave you with beautiful, healthy, happy hair.