The Best Shampoo For Highlighted Hairs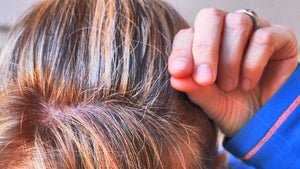 Keeping your colored hair vibrant and healthy can sometimes feel like more effort than it's worth. You spend all that time and money at the salon, getting that perfect colour, only to watch it literally go down the drain after a few washes. Every time you shower, your hair will lose a bit of colour, as the dye reacts with the water and slips off the hair fiber, but the most important factor to preserving your highlighted hair is finding the right shampoo.   Most conventional shampoos are made using sulfates, parabens and other harsh chemicals, which are known to strip the dye from your hair. These kinds of shampoos also damage your hair further by drying out your hair and scalp, as they don't maintain the natural oils that keep your hair soft and silky. If you really want to protect your highlighted hair, you should be using an all-natural shampoo.  
Argan Oil Shampoo
The best shampoo for colour treated hair will be an argan oil shampoo. Argan oil is an all-natural ingredient packed with essential nutrients, vitamins and minerals and will help keep your colour treated hair healthy by giving it an added boost of moisture and keratin. Although it won't fully stop your colour from fading, it's gentle enough to use on colour treated hair and will preserve your colour much longer than other shampoos. Ultimately, argan oil shampoo helps to moisturize your hair, keeping your shiny hue, so that you look like you just left the salon, making it the best shampoo for color treated hairs.  
Sweet Orange Vanilla Shampoo
After you've highlighted your hair, your scalp might feel sore from the colour treatment. And of course, if you've been using the wrong kind of shampoo, not only is your new colour at risk, but you could continue to irritate your scalp further. Sweet orange vanilla shampoo is a moisturizing, hydrating and soothing shampoo that will help repair brittle hair and balance your scalp. It's antiseptic and anti-inflammatory properties make sweet orange vanilla shampoo an ideal choice for someone who colors their hair often.