The Best Vitamin Rich Shampoo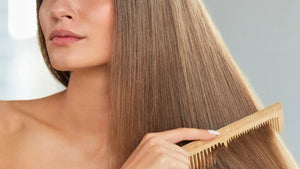 If you had the choice between a shampoo made from all-natural ingredients, infused with essential vitamins and minerals, or a shampoo from a well-known brand, made with a few natural ingredients, but also harsh, damaging chemicals… of course you would choose the product that is better and healthier for your hair. Although there are still plenty of brands that make their products with chemicals, more and more companies are making the switch to all-natural shampoos and conditioners because they see the benefit it has to your hair: cleaner, longer, stronger and healthier locks!
If you want to increase the amount minerals and nutrients your hair can absorb, start by changing your diet. Fast foods and unhealthy junk foods can lead to more oil on your scalp, making hair look dirty and greasy much faster. By eating healthier foods, you'll slowly notice a change in the look and feel of your hair. You can also take vitamin supplements in the form of chewables, pills or water-soluble powder, which are not only good for your hair but for your whole body. But if you want to see immediate results in your hair from an increase of vitamins and minerals, use an all-natural shampoo. The products you choose will feed your locks, so it should be filled with the best possible ingredients.
Oranges are rich in Vitamin C and other essential nutrients that are known to invigorate your hair. The Vitamin C your hair absorbs from oranges help the body form and store a protein called collagen, which produce healthy nails, skin and hair for both men and women. Vitamin C also helps your body absorb iron, a mineral necessary for hair growth. With antiseptic and anti-inflammatory properties, oranges sooth an irritated scalp making it perfect for anyone prone to dandruff, and promotes proper circulation for healthy hair growth.
Vanilla does way more than just add a sweet scent to your hair care routine. It can invigorate your hair to be silky, shiny and smooth, because its full of essential B Vitamins and minerals. B Vitamins are among some of the best for your hair, and both B6 and Biotin are found in vanilla. These vitamins help the body to carry oxygen and nutrients to the scalp and hair follicles, which in turn promotes healthy hair growth. Vanilla is also known for its antioxidant properties, that protect against environmental pollutants and toxins.
The best vitamin rich products are sweet orange vanilla shampoo and sweet orange vanilla conditioner. With these two ingredients combined, sweet orange vanilla shampoo is a purifying and soothing shampoo, that calms an irritated scalp making it perfect for someone prone to dandruff. Gentle enough to use on all hair types, it provides essential nutrients, like Vitamin C and B Vitamins, to truly invigorate your hair and scalp. Sweet orange vanilla conditioner is deeply moisturising without making your hair oily or weighing it down. Ultimately, this conditioner offers more strength to the hair, resulting in thicker, bouncier locks.