The Key To Thicker and Healthier Hair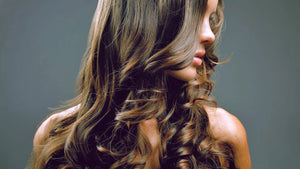 Thicker, healthier, shinier hair can be achieved, with a little work. The secret to achieving this is more than just a hair thickening shampoo, like biotin shampoo. Here are 5 tips to thicker and healthier hair.
Massage Your Scalp
Your scalp needs proper attention, and that means more than just giving it a good scrub while in the shower. A scalp massage can help stimulate hair growth because it allows for easier blood circulation to the hair roots and helps calm the scalp.
Ditch Heat Styling Tools
Every hair stylist will tell you that overusing your heat styling tools is a big hair care "no-no". Consider how often you dry your hair, straight iron it or use a curling wand. Thermal damage occurs every time you apply heat through a styling tool. This not only dries out your hair, but essentially fries it from the inside out. If you can't fully eliminate heat styling tools, limit your use to once per week.
Avoid Hairstyles That Pull on Your Hairline
Ponytails, braids, cornrows and buns are all hairstyles that pull on your hairline. The constant pulling can cause strands of your hair to break or fall out, which of course causes permanent damage to your hair follicles. Make sure to mix up hairstyles and when pulling it up or back, remember to use soft ties.
Stop Chemical Processing
Although changing your hair colour, perms and relaxing your hair can be a nice way to change up your look, you put your hair through a damaging chemical process. This weakens your hair and leads to severe split ends and breakage.
Use the Right Natural Shampoo and Conditioner
Do you know what ingredients are in the shampoo and conditioner you currently use? You might want to check. Chemical cleaning agents, like sulfates, parabens and silicones, prevent your hair from growing healthy and strong, because it strips it of all essential oils and nutrients. Switch to an all-natural product, ASAP.
Biotin shampoo is a hair thickening shampoo, known for providing you with fuller, healthier, shinier hair. Gentle enough to use on all hair types, this shampoo is full of b-complex vitamins, that help assist natural hair growth, strength and shine.